I am really fortunate, the agency I work for allows me to take up to 21 days of PTO (Paid Time Off) each fiscal year. That's a lot of days when you allow your brain to translate from calendar weeks to work weeks -- that's 4 glorious weeks of time away; although sometimes it's for less than fun reasons, like a migraine or the flu. Either way, that time is accruing each pay period.
Let's get to the gritty of it, shall we? Phone call from accounting is telling me I have 200 hours to use by June 30. This, my friends, is 25 days. Which would be fine if I weren't "one of those people" who tends to live at my site. I'm beyond uncomfortable leaving my site for 25 days. That's an entire month and super unrealistic. But no one said you had to take it all at once, right? Normally, you'd be correct. But I sure did get that suggestion. Followed by, take the time and go to Puerto Rico or something. Go somewhere fun. This from accounting. Who deposits my checks each pay period. Do you know something I don't? Because I'm surely not makin' it far with that check.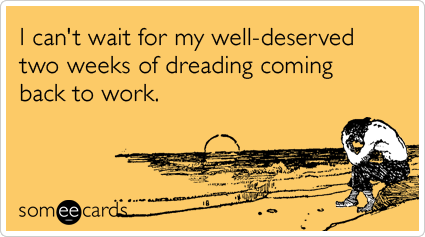 I blocked off several "mini vacation" periods on the calendar and while it is challenging to prepare the site and the staff for them, I'm certain that they can handle the actuality of the situation. I don't doubt them for a moment. It's the prep work that pushes me slowly into maddness. For example, I had to go to the grocery store and purchase 3 weeks of baby food and formula for the infant room because I'm the only one who does that task (since it almost always involves using my own funds & waiting for reimbursement). To do that, I had to put together the infant menus first and so on and so forth. I got it all done.
It's done. I am for the most part, ready to peace right on out of that building for the next 2 weeks. I have to check in on one of those days to meet with a coworker and facilitate an amazing staff meeting -- OMG. This staff meeting is going to be amazeballs. We're going to view a video I got from Reggio Emilia, Italy that focuses on the infant-toddler centers and I am SO FREAKING EXCITED. So much to plan though to make sure it goes smoothly... but I'll have all of this time at home to get it done! (See, always working!)
I think we all know that there's no real way to turn off that portion of your brain unless you really are fortunate enough to escape to a locale with a beach, blue water, and umbrella drinks. I intend to leave that portion of my brain on and to start cooking the things that have been marinating in my brain for the past year that I've been in the position of Site Director and prepare myself to really be the agent of change. And I'll be working on my NAEYC Program Portfolios because if I don't, they will haunt me in my sleep.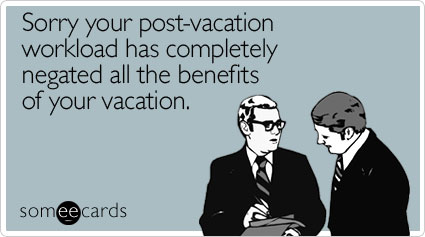 Just another day in the life of an exhausted Site Director! I just know that when we finally achieve the honor of accreditation at our site, it will be my 3rd accomplished site (100% baby!) and my 1st infant-toddler accreditation. Maybe I should be a NAEYC consultant and help other programs accomplish this honor as well. HEY! There's an idea!
Let's put that in the tank for marination!
Get ready to hear lots more from me as I begin my 2 weeks stay-cation here in blustery Chicago effective 5pm tonight!!
XOXO